Blog Post
7 Ways Enterprises Use Mobile Forms to Improve Business Operations
Are you using the best tools for enterprise data management? Even if your business is leveraging smart data solutions to optimize customer interactions, there are ways you can use data beyond externally focused customers or leads.
Fillable forms can flip big data on its head, allowing you to innovate more internal business operations and improve business operations. Enterprises using mobile forms can achieve tighter timelines, more efficient communication and better data integration.
What Is Slowing Down Your Business Operations?
Different operational advancements can increase productivity. However, only truly innovative solutions provide ways to work smarter, not harder.
For example, consider how a sports car achieves top speeds. The powerful engine that's under the hood does the hard work, but the aerodynamic design of the car reduces structural obstacles that can get in the way of using the engine's full power.
Consider the ways your enterprise can reduce its operational drag:
What areas of business is still on paper? For example, consider timesheets, purchase orders, call reports or other internal communications.
Are employees using inefficient methods of communication that limit automation? For example, they're sending and receiving emails for new project requests instead of using streamlined workflows.
Is your business held back because you're waiting for status reports instead of using real-time data?
Are you leveraging data integration tools so that point-of-entry information automatically updates other data systems, such as your CRM or accounting software?
Benefits of Mobile Form Technology
If your business is ready to reduce its operational inefficiencies, find out how Device Magic mobile forms can streamline your enterprise data collection needs.
1. Better Digital Inputs for Improved Efficiency
Operational efficiency can be improved through better data inputs. With the prevalence of smartphones and mobile devices, there's no reason your business can't replace its clipboards with mobile forms.
Businesses that are using paperwork are moving 25 percent slower than businesses using mobile forms, and the information has 50 percent more errors.
Mobile forms are just as portable as paperwork. Additionally, they offer multiple input types such as text, photos, hand-drawn sketches, GPS data, and signature fields.
2. Tighter Timelines Using Digital Workflows
Consider the unnecessary lag time that can happen when employees are shuffling information back and forth. Using the structured data of mobile forms, enterprises can see faster turnaround on tasks and requests. With Device Magic's automated workflows, processes that used to take days can be completed in minutes.
For example, in a typical use case scenario, a project manager would dispatch a pre-populated work form to inform a field worker of a new task. Whether it's an inspection that needs to be completed or an additional stop on a trucking route, the pre-populated form can lay out all available information and can clearly lay out the steps to be completed and what information needs to be gathered. Form completion can then trigger a sequence of events such as an automated customer email, an IT notification or a database update.
By automating data delivery and business communication, your enterprise could save hundreds of hours per week.
3. Conditional Workflows for Hands-off Deployment
The smarter your operational data system, the more productive your entire team will be.
With Device Magic's destination rules, automated workflows can be customized based on the content of the forms. For example, if a utilities customer requested a follow-up, submitting a service repair form could trigger a notification to both the service department and the sales team. In another case, a construction foreman submitting a staffing request would notify HR, but the submission would only alert the finance department if the hours were for overtime pay.
By creating conditional workflows, you can ensure the right notifications are sent and the necessary tasks are initiated so your staff is working smarter not harder.
4. App-to-app Integration for Full Digital Connectivity
Once data is input into a mobile form, it can then be seamlessly integrated into your other data systems.
Device Magic offers many built-in integrations to users, including Google Drive, Dropbox, Slack, Zapier, Evernote, Microsoft OneDrive, Box, email and SMS.
Enterprise customers have additional built-in integration options, including Geotab, Podio, Salesforce, ShareFile and SQL. There's also the option to go beyond the built-in integrations and create a customized two-way data flow using the RestAPI.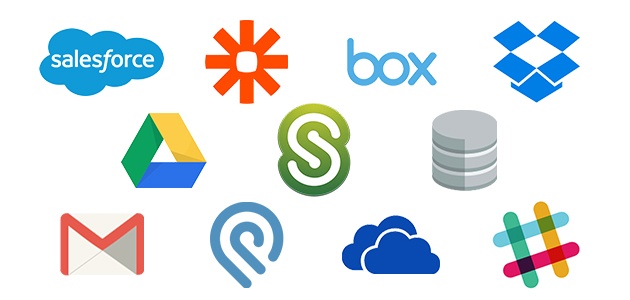 When your enterprise has full app-to-app integration, your data systems won't be waiting for manual data entry or data transfer. You'll save hours of work and get faster results.
5. Real-time Dashboards for Analytics
To get strategic oversight of operations and actionable insights, enterprise customers have access to real-time analytics and reporting functions.
Going beyond the activity dashboards that are available to all customers, these customizable analytics tools provide the information that equips you to make better decisions and respond to trends.
6. SSO Enabled Mobile Forms App
Businesses using Single Sign-on (SSO) to improve user productivity and access systems can add Device Magic to their protocols by using Microsoft Azure's Active Directory.
When SSO is enabled, the Microsoft sign-in page will grant user access to a full set of business apps, streamlining a user's daily access procedures as well as IT's process of managing employee onboarding and offboarding.
7. Web App for Access Beyond Mobile Devices
Mobile forms are a perfect way for desk-free workers to communicate business information. However, the web app lets your forms go beyond devices that have the app installed. This provides a wide set of multi-use scenarios, such as when a phone battery runs out, a tablet is unavailable or an independent contractor needs one-time form access.
Additionally, the app provides desk staff with streamlined access to fill out forms from their desktop workstation. With complete platform flexibility, employees can use any internet-connected device to enter form data.
---
Learn more about how enterprises using Device Magic for data collection are increasing efficiency, improving data quality and eliminating paperwork.
← Back to Blog