Blog Post
Device Magic vs. ProntoForms: A Mobile Forms Comparison
Using mobile forms can add strong value to your business operations. With the prevalence of mobile devices, it's easier than ever to digitally collect information that can then be synced directly into your other data systems.
Mobile forms have increased productivity, reduced paperwork, streamlined workflows, and aided in analysis, among other benefits. Yet, even as the technology's benefits are robust, the decision of which software to implement can have a direct impact on the features you can access, the overall cost, and business productivity.
Device Magic and ProntoForms are two leading mobile forms providers. Let's compare the two platforms so you can choose the best mobile forms provider for your business.
Device Magic vs. ProntoForms: Integrations
A strong advantage of a mobile forms app is its ability to integrate with other software. This means that instead of manually transferring data between apps, you can automate how new data is handled.
For example, a completed delivery form can automatically trigger a confirmation receipt. A customer record in Salesforce can be automatically updated with the log of a recent inspection report. Timesheet data can automatically sync with HR records in Zendesk.
Both Device Magic and ProntoForms offer out-of-the box integrations that require only a quick setup process to integrate data systems. This puts both platforms at an advantage over other mobile forms apps that require coding to integrate software.
Device Magic offers 26 software integrations baked into the app, whereas ProntoForms advertises 19 integrations. Both platforms integrate with AWS, Box, ShareFile, Salesforce, Zendesk, QuickBooks, SMS, Email, Dropbox, Geotab, SFTP, and Google Drive.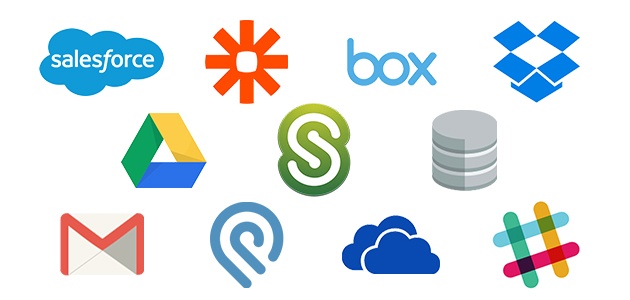 DeviceMagic's additional integrations that aren't offered by ProntoForms include Slack, Podio, SQL, Evernote, HTTP(S), SugarCRM, Constant Contact, MailChimp, Wufoo, Zoho, Project Manager, OneDrive, and Google Calendar. A key difference between the integrations of Device Magic and ProntoForms is that Device Magic is the only platform that offers Zapier integration, which provides connectivity to hundreds of other apps.
If your business uses proprietary software that's not included in the list of integrations, both Device Magic and ProntoForms provide custom integration tools that can be coded to match your business' needs.
Device Magic vs. ProntoForms: Features
Both Device Magic and ProntoForms offer a wide set of mobile forms features. Each allows for multiple types of input including text, photo, sketch, geolocation, and timestamp. Both software options can be run on iOS and Android mobile devices, as well as on a desktop/laptop. Both also offer permissions by user groups, data encryption, and SSO.
Additionally, Device Magic and ProntoForms both offer offline access so that cellular dead zone or poor Wi-Fi won't halt productivity. Forms completed when offline are automatically transmitted after the device is back online. With offline access, the spotty cell signals of rural delivery routes won't be a problem, nor will the urban dead zones such as the 200 gaps in NYC cell coverage or the poor connectivity within factory buildings. Offline access also provides extended reach to organizations working in remote locations.
Access to analytics is a differentiating feature between ProntoForms and Device Magic. With ProntoForms, all levels of subscribers have access to a submission dashboard with real-time information. Subscribers to Professional and Enterprise plans have the option to add on a KPI dashboard that offers pre-configured analytics and filters. Enterprise subscribers have the additional option to add on Enterprise analytics.
Comparatively, Device Magic analytics tools give all levels of subscribers access to activity dashboards, real-time graphs with filtering, and weekly submissions reports. Qualifying Enterprise customers also can use customizable dashboards for modeling and targeted analytics.
Device Magic vs. ProntoForms: Ease of Use
In recent reviews on Capterra from the past six months, about one third of ProntoForms users commented that negative aspects of the platform are a lack of intuitiveness or user friendliness. While ProntoForms' overall rating in this area was strong, the thematic trend of these recent comments indicates that customers could face challenges.
To implement ProntoForms, the company "strongly recommends" purchasing a setup package that includes form building, adding that, "it is possible for experienced customers to configure the solution themselves." The strong recommendation of ProntoForms' setup services indicate that the platform may require more expertise than a typical software implementation done internally.
Cost for form implementation packages ranges from $2,500 to $10,000. After switching to Device Magic, one business said its experience using ProntoForms was frustrating and expensive. It said that after spending $5,000 to get five forms built, waiting months, and having about eight hours of phone calls per form, in the end, only one form really worked.
After switching service, the user said that Device Magic is a much better product. Instead of waiting months, the easy-to-use platform allowed the company to build its own forms within just two weeks.
Device Magic also leads when it comes to app reviews. At the time of this writing, Android users ranked ProntoForm 0.3 stars ahead of Device Magic, and iOS users ranked Device Magic a full star better than ProntoForms. The iOS one star lead is significant because Device Magic's 4.6 star rating comes from 411 reviews.
"We have been using forms for the past 6 months. It has allowed us to improve the way in which we collect field data, and has allowed us to better serve our customers. The API has proven useful for automating a bunch of stuff, and we are just getting started," said one Device Magic iOS user.
Device Magic vs. ProntoForms: Cost
The rates for ProntoForms are about 18 to 20 percent higher than Device Magic. Depending on the number of users in your organization, this extra cost can add up significantly.
Device Magic's monthly rate per device when paid annually is $25 for the Professional Plan. Comparatively, ProntoForms' monthly rate when paid annually is $45 per device for their mid-tier plan.
Enterprise plans on each platform are processed via a custom quote. Device Magic offers a Free plan that has limited functionality, and provides a 14-day free trial with additional Enterprise features to test.
Device Magic also offers contract-free monthly plans at $30 per device for the Professional plan. These plans provide an alternative to upfront annual costs, and they can be canceled at any time.
---
Conclusion
While many of the features of Device Magic and ProntoForms are the same, Device Magic users get access to hundreds of additional integration options via Zapier. This dramatically improves the potential productivity gains that could be achieved through integrations.
Additionally, reviewers commented that ProntoForms wasn't intuitive or easy to use. This was reinforced by the company's "strong recommendation" for customers without experience to purchase setup services.
Moreover, ProntoForms' subscription rates are about 18 to 20 percent higher than those of Device Magic.
In summary, Device Magic is the more affordable mobile forms platform and offers more integrations and easier setup.
---
*Information as of October 2018
← Back to Blog