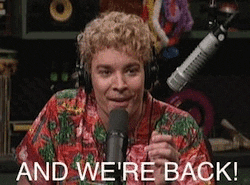 Whew! It sure has been awhile since we last fired this thing up. The good news is the Device Magic blog is back! And we're striving to be better than ever.
"Hey! Nice to hear from you again. You know, it's been a long time since I read a new post from you guys. What types of things are you going to be blogging about?"
Great question, eager Device Magic blog reader. Here's what you can expect to find here going forward:
Best practice and how-to articles
Information on new products and platforms for your business
The latest and greatest from Device Magic
If it has to do with mobile forms, mobile technology, business trends, or going paperless, you'll find it here on the revamped Device Magic blog.
We've got tons of great information in the works that we're excited to share with you, so be sure to check back often. The knowledge will be getting dropped in the not too distant future.
We want to hear from you!
Got things you want to read about? Let us know! Give us your blog post suggestions in the comments or email our Marketing team directly.
Thanks for hanging with us!
The Device Magic Team